News
EWP Highlight: Goodwill Industries of the Chesapeake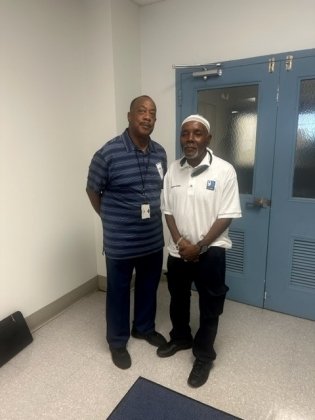 Introduction to Goodwill Industries of Chesapeake:
For three decades, Goodwill Industries of Chesapeake has been a dedicated business partner in the Employment Works Program and to the Maryland Department of Labor, operating from their 1100 Eutaw Street location. Over the years, this partnership has flourished, resulting in the successful execution of various essential services that benefit both the organization and the community.
A Wide Range of Services:
Goodwill Industries of Chesapeake plays a pivotal role in maintaining the facility by offering a diverse set of services. These services span from fundamental janitorial tasks to more specialized operations such as floor stripping and waxing, recycling initiatives, and carpet cleaning. This comprehensive approach ensures that the building remains in top-notch condition for all its occupants.
Dedicated Team Members:
One of the core strengths of Goodwill's operation at this location is its dedicated and committed team members. Supervisor Ronald Gray stands as a shining example of the organization's ability to nurture talent from within. Having initially joined as a temporary worker in 2001, Ronald's journey within Goodwill has been a remarkable one. He reflects on his experience, highlighting how the job evolved from mundane tasks to an engaging and fulfilling role. In Ronald's words, "The job got interesting, I started learning things and meeting new people and here I am today". Such stories underscore the opportunities for growth and personal development that Goodwill provides to its employees.
Strong Leadership and Management:
In addition to the hardworking team members, Goodwill Industries of Chesapeake boasts strong leadership and management. Project Manager Michael Jacobs, with an impressive 38 years of service under his belt, exemplifies the commitment and passion that individuals bring to their roles at Goodwill. Michael's response to the question of why he has stayed with the organization for so long, "I love what I do," encapsulates the sense of purpose and dedication that permeates the Goodwill work environment.
Long-standing Success as an Employment Works Vendor:
Goodwill Industries of Chesapeake has consistently excelled as an Employment Works vendor for an extended period. This success can be attributed to the exceptional staff and leadership in place. Their unwavering dedication to their mission has contributed significantly to their effectiveness in serving the community.
A Bright Future Ahead:
The partnership between Goodwill Industries of Chesapeake and the Maryland Department of Labor, represented by Maryland Works, is a source of pride and excitement for all involved. This collaboration has undoubtedly made a positive impact on the community and will continue to do so in the future. As both organizations move forward, their shared commitment to empowering individuals and strengthening communities is poised to drive even greater success and impact.
In conclusion, Goodwill Industries of Chesapeake's 30-year partnership with the Employment Works Program stands as a testament to the organization's unwavering dedication, outstanding team members, and effective leadership. This enduring collaboration has not only maintained the State building at 1100 Eutaw, but also enriched the lives of those involved, serving as a beacon of hope and opportunity within the community.