News
BWI Interns Receive Certificates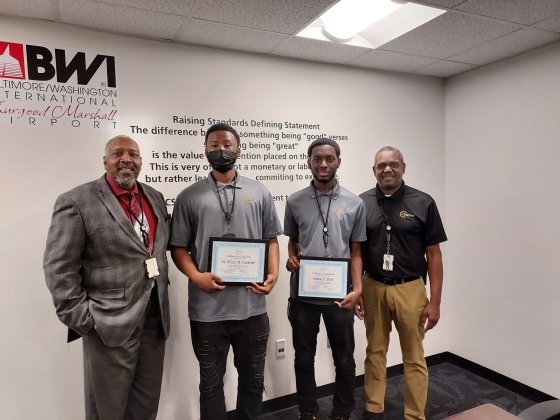 On Monday, July 17, 2023, Ar-Trazz Catlette and Dionne Hill, transitioning students from Baltimore City Public Schools, completed their six month internship at Thurgood Marshall BWI Airport and both Interns have decided to continue their employment at BWI Airport. The certificates were presented to the Interns by Danny Huntley, Director, Office of Custodial Services at the Maryland Aviation Administration and Robin Santana, Project Manager for Chimes DC at BWI Airport. 
Both expressed their gratitude for being allowed the opportunity to find meaningful employment. Both stated that working at BWI has taught them new things and they now realize that they can do anything by applying themselves and working hard. Ar-Trazz and Dione expressed their appreciation for the strong support system at BWI and now both believe they have a good future ahead of them. Ar-Trazz and Dione also stated that working as a Chimes Intern has allowed them to help their family and be smart with money.
Thank you for your continued support of the Chimes DC Internship Program at BWI Airport.
(In the photo from left to right are Dannie Huntley, Ar-Trazz Catlette, Dione Hill and Robin Santana.)
Source: Chimes DC